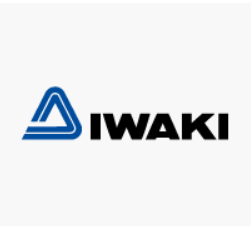 Iwaki dosing pumps
Iwaki offers a wide choice of dosing pumps to suit all business sectors. We see dosing pumps in all sectors where chemicals are being injected in many different processes. Iwaki is a world wide Japanese manufacturer. Many of their products are protected by patents. Iwaki does not only make dosing pumps, Iwaki manufactures all kinds of pumps; transfer of liquids – precise dosage in Pharmaceutical, dosage in the chemical division; cooling tower, industrial boilers, swimming pools, spas (hot tubs), food and beverage, aeronautics, industrial and many more. Whether you need a pump for small volumes or large volumes, Iwaki offers a wide choice of pumps in these different markets.
Presentation of Iwaki pumps:
Metering pumps
Metering pumps – or often called under different names; positive displacement pump, solenoid pump, electromagnetic diaphragm metering pump, dosing pump, chemical pump, chlorine pump, metering pump etc. are simply pumps where the diaphragm by a forward / backward movement as well as ball cartridges cause liquids to move. The electronics of these pumps are offered in different control modes; with simple on-off control going to precise dosages confirmed by flowmeters. Pump controls the movement of the diaphragm (stroke length) and the speed of the diaphragm (stroke per minute).
Iwaki extremely reliable
Iwaki is a master in this field by offering extremely reliable, durable, precise dosing pumps and ensuring that it meets the requirements of its global clientele. Whether for chlorine, very strong acids, products with base chemicals in high concentrations or any other liquid, Iwaki will surely have products for your applications.
Iwaki Dosing Pumps
Showing all 9 results