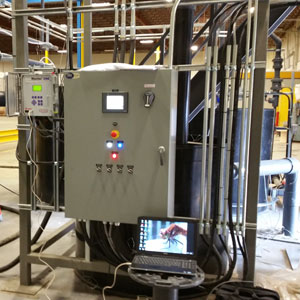 Consulting expertise in process control and fluid handling and process optimization.
Chemtech Automation brings together more than 25 years of experience in process optimization, rapid solution and facilities throughout the country as references.
Sale of process equipment, Pump metering – Magnetic coupling centrifugal pump – Double diaphragm air pump – Walchem controllers and accessories.
Chemtech Automation is the master distributor of some of these products (Iwaki – Walchem) and authorized distributor (Iwaki Air and Iwaki America), These high – quality products and renowned brands have proved their worth. No interface problems between the different components.
Technical support: installation assistance, start-up.
We also offer assistance with installation and start-up of systems to ensure performance and verify results. Specialized in instrumentation and control with class C electrician license for 25 years, we can solve very quickly the problems caused by the equipment. We have one of the largest inventories in Quebec for Iwaki and Walchem products, something that is rarely done today. Manufacturers are at 6 am from Quebec and we can order at any time if the items are not in inventory.
Distribution
Water Treatment Equipment – Metering Pumps – Centrifugal Pumps – Air Pump – Dosing System Manufacturing – Accessories – Instrumentation – Walchem Controllers and more. You with everything at a single supplier therefore fewer intermediaries involved.
Fabrication
Improved and simplified dosing system. The complete solutions offered by Chemtech Automation Inc. are available quickly and once the equipment is delivered to the factory, they are ready to use. Measuring cells, regulators, dosing pumps and accessories are a set and all of these components are supplied by Chemtech Automation Inc. We are specialized in the design of dosing system and control panel specifically tailored to your requirements.