Handheld Devices
ST-500 Series Inline Fluorometers
The popular ST-500 inline fluorometer is a robust and highly accurate tool for real-time monitoring of inhibitor dose. It is often used for feedback control to maintain dosed concentration within a narrow band around the set point, regardless of changes in cycle or heat load dynamics.
Now the ST-500 series includes expanded measurement targets for a broad range of analytes, including fluorescein and naphthenic disulfonic acid (NDSA), and brings its proven record of reliability to your traced cooling programs for boiler and other applications.

Thanks to its state-of-the-art fluorescence technology, the ST-500 Series handles a wide range of real-world sample water conditions. With its flow-through optical design and multiple wavelength color-turbidity compensation algorithm, the ST-500 probe maintains high performance for water samples with up to 100 NTU turbidity and/or 5 ppm iron.
The competitive probe comparison shown in the experiment below clearly demonstrates the superior performance of the ST-500 probe in the presence of iron color.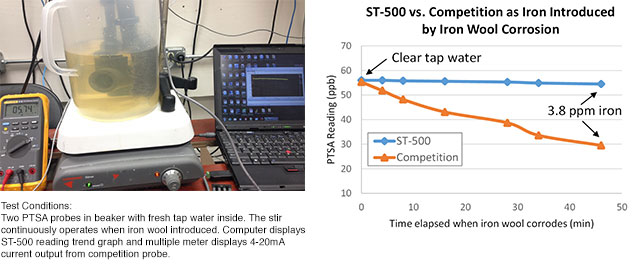 Typical Applications
Traced cooling water treatment programs
Traced boiler water treatment programs
Features
Color and turbidity compensation for accurate readings, long-term stability, and less frequent calibration.
Typical maintenance cycle in months, not weeks or days.
Works with WiFi and Bluetooth adapters for one-press calibration with the SP-910, 700, and 400 tools, and for firmware upgrades via your smart phone.
Isolated 4-20mA output: no need for additional transmitter for easy connection with PLC and DCS.
Specifications
ST-500(1)
ST-525/ST-525SS(2)
ST-540
P/N
50661
50665
50666 for SS
50667
Target
PTSA
Fluorescein
NDSA
Range
0~200 ppb
0~60 ppb
0~100 ppb
Resolution
0.1 ppb
Accuracy
±1% of reading or 1 ppb , whichever is greater
Method
UV Fluorescence
Power Supply
22~26V DC,Power Consumption ~1W
Outputs
Isolated 4-20mA Analog Output
Isolated RS-485 Digital Output
Supporting MODBUS protocol
Dimension
Length 6.8 inch, diameter 1.44 inch
525SS: 8.3 x 2.25 x 1.75 inch
Weight
0.37 lbs (525SS: 3.2 lbs)
Installation
Custom tee with 3/4″NPT ports
Housing Material
CPVC/stainless steel
Pressure
Up to 100 psi
Temperature
Operation 40~120℉,Storage 20~140℉
Cable Length
5 feet,terminated with IP67 connectors
30 feet, 60 feet extension cables available
Calibration
Two point calibration against standard solutions
Rating
IP66
Regulation
CE marked
Camlock version available.
Stainless housing version available.Check www.pyxis-lab.com
PYXIS INLINE PROBES – SELECT*A*GUIDE
Functional Capability
ST500
ST500SS
ST500RO
ST525
ST525ss
ST540SS
ST565
EM500
PTSA (0-300ppb) For Cooling
●
●
PTSA (0-10ppb) For RO
●
Fluoroscein (0-60ppb) For Process
●
Fluoroscein (0-60ppb) For Boiler
●
NDSA (0-100ppb) For Boiler
●
HST (0-5ppm) For Cooling
●
Chlorophyll-a (0-1000ppb) For Cooling
●
Modbus RS 485 Output
●
●
●
●
●
●
●
●
Analog 4-20mA Output
●
●
●
●
●
●
●
●
MA-485WB Adapter Required For BlueTooth & Wifi Communication
●
●
●
●
●
●
●
●