Handheld Devices, Pyxis
SP-350 Handheld Fluorometers

Pyxis SP-300 series fluorometers measure the concentration of a fluorescent substance in a liquid sample. These fluorometers have a built in sample cell and samples can be directly filled into the sample cell. SP-380, SP-395, and SP-400 are dual channel fluorometers. SP-380 measures PTSA and fluorescein. SP-395 measures halogenated azoles and naphthenic disulfonic acid (NDSA).
SP-400 measures PTSA (1,3,6,8-pyrenetetras ulfonic acid) and conductivity with patent pending technology to combine cutting edge optical measurement with electrochemical measurement in the same sample cell.
Simple to operate
One-handed operation. No vial or cuvette needed. One press to calibrate Pyxis ST-500 inline fluorometer via built-in WiFi.
Tolerance to interference
Auto-compensation for sample color and turbidity. Holds accuracy for a long period of time. No need for frequent calibration.
Durable and affordable
Fully dustproof and waterproof. Rugged structure to survive in a tough industrial environment. Affordable: start your fluorescent traced program today.
Common Specifications
| Items | Specifications |
| --- | --- |
| Battery | 9V alkaline battery |
| Typical Battery Life | 3,200 readings(480mAh battery) |
| Display | TFT-LCD, visible in direct sunlight |
| Dimensions (L x W x H) | 160 x 74 x 33 (mm) |
| Weight | 295g (without battery) |
| Temperature Range | 40-106℉(4-41℃) |
| Humidity | 85% at 106℉(41℃) |
| Envionmental | IP67, dustproof and waterproof |
| Regulation | CE |
Intuitive Operation
Just fill the built-in sample cell with water and press OK. The intuitive graphical display lets you easily conduct calibration when needed.
The displays below show simple operation flow for PTSA Standalone Calibration (2 Point with Zero):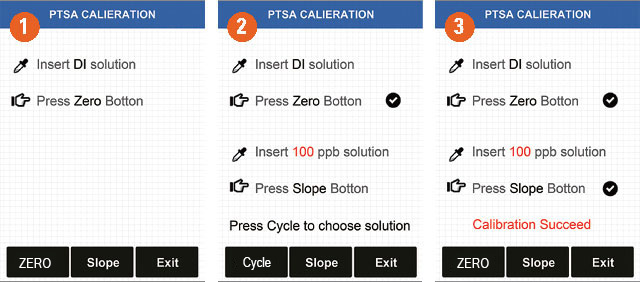 PTSA Determination with Immunity to Color and Turbidity
Insufficient attention has been paid to color and turbidity interference to the measurement accuracy of PTSA fluorescence. Pyxis proprietary technology provides robust measurement and achieves maximum rejection of interference by utilizing a state-of-the-art optical design and advanced compensation algorithm.
SP-350 PTSA reading compensates for sample turbidity up to 40 NTU and sample color equivalent to 5 ppm total iron. If sample turbidity is too high or the sample color is too intensive, SP-350 displays a warning. When this happens, filter water sample before testing.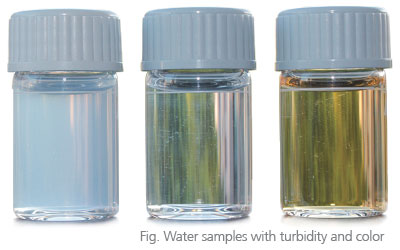 SP-350 Specifications
| | P/N | Target fluorophore and range | Applications |
| --- | --- | --- | --- |
| SP-350 | 50206 | PTSA(0-300 ppb) | Cooling tower fluorescence tracing |
| SP-380 | 50208 | PTSA(0-300 ppb) Fluorescein(0-1,000.0 ppb) | Cooling tower and boiler fluorescence tracing |
| SP-395 | 50209 | Halogenated azoles(0-5 ppm),NDSA(0-100 ppb) | Cooling tower fluorescence tracing |
| SP-400 | 50201 | PTSA(0-300 ppb),Conductivity(0-15000 S/cm) | Cooling tower fluorescence tracing |
PYXIS HANDHELD DEVICES – SELECT*A*GUIDE
Functional Capability
SP-350
SP-380
SP-395
SP-400
SP-700B
SP-910
PTSA (0-300ppb
●
●
●
●
●
Fluoroscein (0-1000ppb)
●
●
●
NDSA (0-100ppb)
●
●
HST (0-5ppm)
●
●
Turbidity
●
pH (0-14)
●
ORP (+1500mV)
●
Conductivity (0-15,000uS)
●
●
Temperature (0-70oC)
●
WiFi / BlueTooth Enabled
●
●
●
●
●
●
Colorimeter Testing
●