Handheld Devices
ST-700 Inline pH / ORP / Conductivity Sensor With Embedded Transducers
The Pyxis ST-700 series of pH, ORP, and conductivity probes are designed to simplify installation, calibration, and in-use operation in industrial wastewater and cooling water applications. These probes have an embedded 4~20mA transmitter.
The oversized platinum disk ORP and the flat pH bubble sensing elements increase resistance to contamination. The double salt bridge design with large junction capacity ensures a long sensor life with minimum maintenance.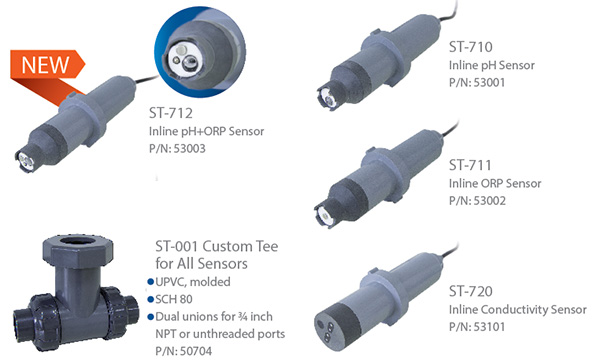 Typical Applications
Industrial wastewater treatment, cooling water treatment
Features
Dual embedded transmitters in sensor housing: 4-20mA and RS-485 supporting MODBUS.
Large conjunction capacity (compared to replaceable electrode design) leading to longer service life.
Longer maintenance cycles with high contamination resistance. Eliminates the need of pre-amplifier and transfer signal directly in 4~20mA or digital protocol.
Enhanced robustness when controller is away from sample point.
Specially designed pH/ORP electrodes tolerant to short time frozen during shipment or storage.
Stainless steel solution grounding point on sensor to stay away from ground loop problems.
Specifications
| Items | Specification |
| --- | --- |
| pH | 0~14 range with ATC,±0.01 pH unit precision |
| ORP | ±1500mV range,±1mV precision |
| Conductivity | 1~15,000 uS/cm |
| Temperature | 0~65℃(32~149℉) |
| Response Time | 95% within 5 sec |
| Power Supply | 12-36V DC,~1W |
| Output | 4~20mA isolated,RS-485 isolated |
| Connector | Custom IP67 waterproof connector,1.5m(4.5ft) |
| Operation Pressure | Up to 0.7 MPa(100 PSI)at 65℃(149℉) |
| Installation | Custom 3/4inch tee with NPT thread |
| Storage temperature | -20℃~60℃(-4~140℉) |
| Operational temperature | 0℃~40℃(32~104℉) |
| Typical service life | pH/ORP 2 years,Conductivity 5 years |
| Housing material | CPVC |
| Dimension | 172mm long,36.6mm diameter(6.8inch long 1.44inch diameter) |
| Weight | 170g (0.37lbs) |
| Regulation | CE |