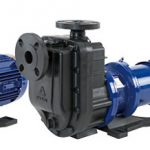 Motor 1/2 to 5 HP Max. 500 L / min
Centrifugal pumps with magnetic drive – self-priming
pumps of the series SMX- (F) are centrifugal pumps with magnetic drive self-priming horizontal-type made of polypropylene or ETFE no metal parts in contact with the liquid. These pumps have a separation system to automatically evacuate air from the liquid and do not require priming pots or foot valves. They have a fast priming system and high performance. These pumps offer superior dry resistance to standard self-priming pumps.
Maximum capacity: Up to 500 L / min
Magnetic Pump SMX-F – Self-priming Pump
This magnetic drive pump, made without any metal parts in contact with the liquid, is self priming. It is sufficient to initially fill the reserve of liquid integrated in the pump body to ensure priming.
Magnetic Pump SMX-F – Simple construction
The main parts of this magnetic pump are common to the MX series (-F). The small quantity of parts makes it easier to maintain and manage spare parts.
Magnetic Pump SMX-F – Chemical Resistance
The parts of the wetted part are made of polypropylene filled with glass fibers, ETFE filled with carbon fibers, ceramic, carbon and other materials also resistant to corrosion. The SMX series of magnetic pumps can be used for a wide range of chemicals.
Description